TRANSFORMER OPERATION:
A transformer is another example of Faraday's law and Lenz's law at work. A transformer is basically a solenoid, usually with an "iron core" inserted through its center. Another such solenoid (with a different number of loops/windings) is brought VERY CLOSE, but NOT TOUCHING the first. AC or pulsing DC is then applied across the first solenoid, but no current at all is PHYSICALLY supplied to the second. What do you think will happen if you connected a light to the second solenoid? The light will shine! If you recall Faraday's and Lenz's laws, the second does NOT have to be supplied with its own current source, nor must it be physically connected to the first. Just like with the "jump-ring" demo shown earlier, electric current is induced in these copper loops as they are placed over the levitation machine. Enough current is induced in these copper loops to make the light bulb glow in the dark. The light bulb's electrical resistance prevents enough current from being induced in these copper loops to lift and levitate this copper looped-dipole, and thus these copper loops cannot be levitated against their own mass by the surrounding magnetic fields. NO physical contact is used AT ALL, since this is another "action-at-a-distance" effect. Just having a small enough electrical resistance in a CLOSED circuit and being close enough and is all that's required to INDUCE another current to make things glow. This is "action-at-a-distance, part 4".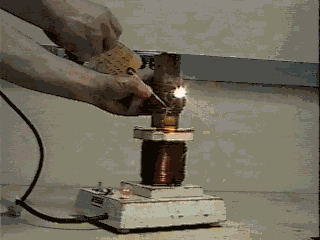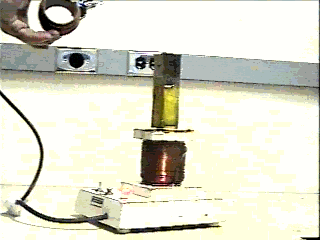 ONWARD WITH THIS DEMONSTRATION.